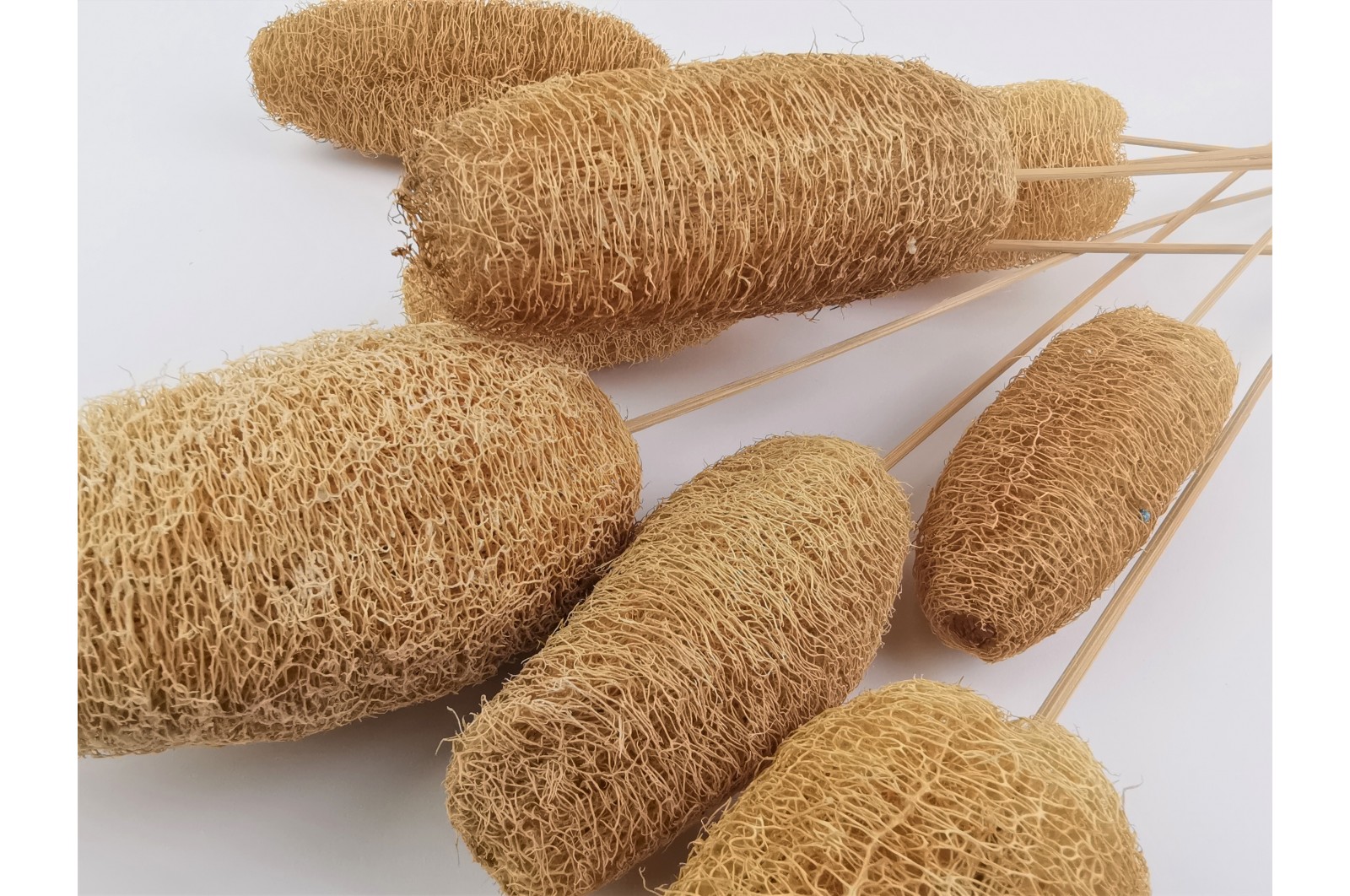  
Dried luffa on stem natural
Reference : 8-SEC-FL-LUF-08
bouquet of 8 stalks
Our site is dedicated to professionals
Full access to the site (price list, availability and product information) is reserved for our registered customers. To access it, log in or create your account. Automatic and instantaneous.
Log in to your account
No account? Create one
Description
The loofah, also called loofa or louffa is a very original dried flower. Did you know that before being a dried flower, the dried loofah is a species of squash from India? In addition to this surprising origin, the loofah is a multifunctional plant. In addition to being a food and a decorative element in its dried flower state, the loofah is sometimes used in the kitchen as a dish sponge. This is an ecological and sustainable way to divert the use of the loofah. The loofah is definitely one of the most surprising species in the Phocealys catalog. In addition to its multiple ways of using it, all more original than the others, its dried flower aspect is no less unique. Like little lanterns perched on their long wooden stems, the loofah has a unique appearance and feel all its own. Like thousands of very fine filaments intertwined in a random and disordered way to form oval spheres, the loofah has a pleasant and satisfying touch in addition to having an atypical and original look. To use the loofah in the most effective way, you can first simply arrange them in a nice and large vase to decorate your home. If you wish to accompany your loofah stems with other dried plants, think of dry lotus, dry babalas, dry banksia hookerana or dry cotton branches. Loofahs are particularly appreciated by the creators of DIY objects, especially for the realization of flowered frames, flowers under a bell or in a vial... The loofah is also an opportunity to bring originality to the big events of your customers, their wedding for example. In table decorations, floral arches or floral aisles, the loofah is the unique touch that will make your customers' events even more beautiful. The loofah is available in several colors, the natural color but also pink and creamy white.
Origin :

Spain

Length min (cm) :

30

Length max (cm) :

40

Held in time :
Characteristics
Note: weight and dimensions are for general guidance only. It is a natural product and therefore the colours may vary depending on the bunch.
General recommendations
Dried flowers require minimal maintenance. Phocealys advises you :
Do not expose your dried flowers directly to the sun, as direct exposure could damage the colour of your bouquets

To remove dust from your dried bouquets, wipe them lightly with a cloth to avoid damaging them. You can also use a hairdryer, as long as the air is cold and you do not blow too close to the bouquet
If you follow these tips, your dried flowers will last almost forever!