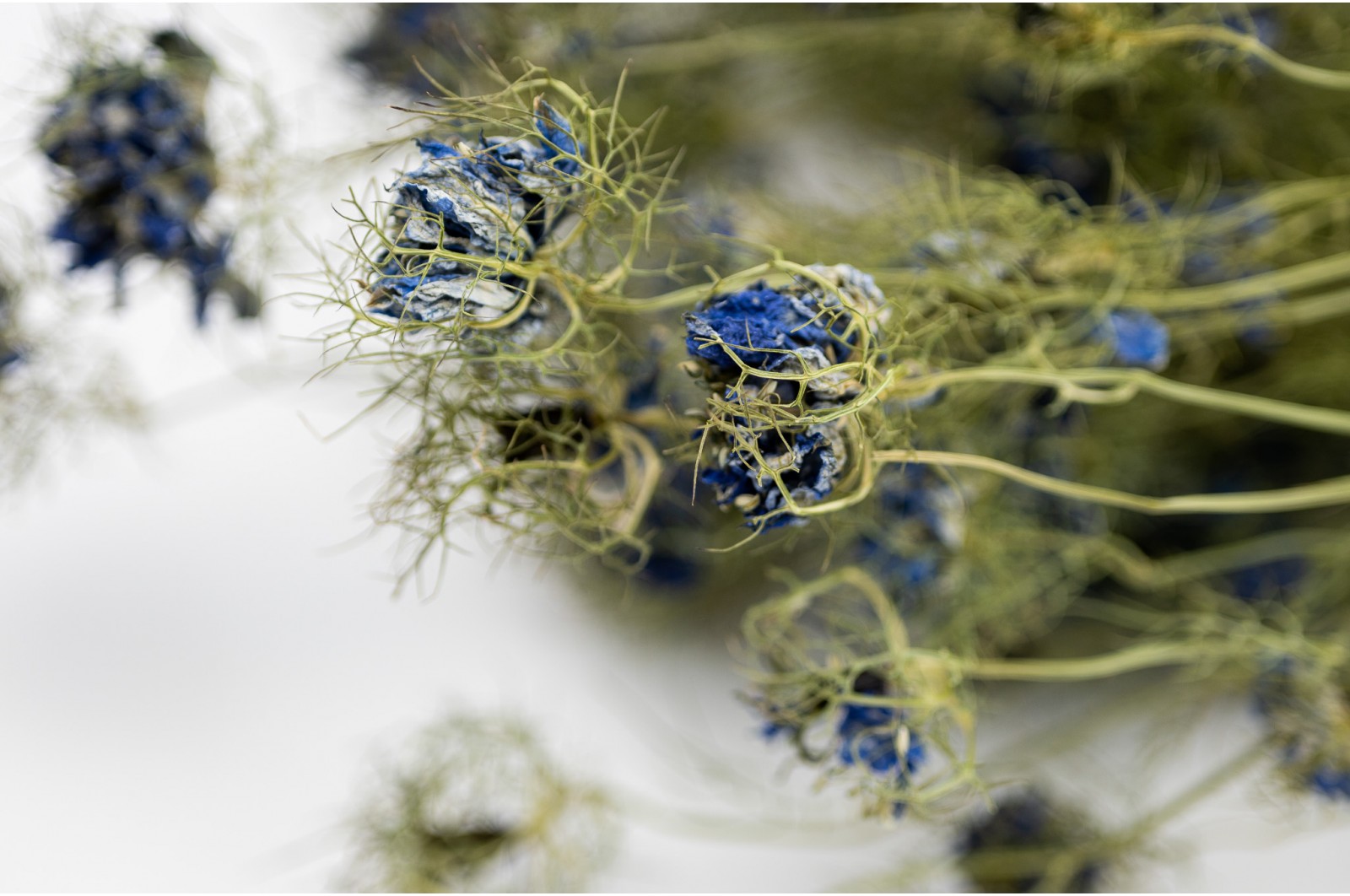  
Dried nigella blossom (29)
Reference : 29-SEC-FL-NIGFL-08
Available stock :
46

units
Our site is dedicated to professionals
Full access to the site (price list, availability and product information) is reserved for our registered customers. To access it, log in or create your account. Automatic and instantaneous.
Log in to your account
No account? Create one
Description
Ein kleiner Stern, um Ihre Kreationen zu beleuchten, ist die atypische Form des orientalischen Nigella, die Ihre Sträuße einzigartig macht. Für eine Dekoration, die keiner anderen gleicht, ist das Aussehen des Nigella, dessen Blüten, die an Sternanis am Ende seiner langen Stiele erinnern, die ideale Wahl. Ob ländlich oder rustikal, der orientalische Nigella passt nicht nur zu vielen verschiedenen Designs und Stilen, sondern eignet sich auch für eine Vielzahl von Projekten. Bei der Innendekoration ist die orientalische Nigella ein starkes ästhetisches Element in einem Strauß aus getrockneten oder stabilisierten Blumen. Darüber hinaus passt er sich selbst den untypischsten Blumen und Pflanzen an. Wenn Sie ihn mit getrockneten Protea-Blüten, getrockneten Lotusblumen oder sogar getrocknetem Platispernum kombinieren, ist ein einzigartiges und originelles Ergebnis garantiert. Auch wenn der Nigella in einem Strauß oder in einer Vase wunderschön aussieht, kann er auch für verschiedene andere Projekte verwendet werden, insbesondere für DIY-Fans. Die so originellen Blüten der Nigella können in Blumenkränze, schöne Blumenbögen, Wand- oder Tischdekorationen eingearbeitet werden. Man kann sie auch in handgemachtem Schmuck, Armbändern und Blumenbroschen verwenden. Nigella ist ein unverzichtbarer Bestandteil von Hochzeitsdekorationen. Um orientalischen Nigella zusammenzustellen, sollten Sie getrocknete Blumen wie Helichrysum, Pampasgras, aber auch stabilisierte Pflanzen wie z. B. Limonium in Betracht ziehen. In unserem Katalog finden Sie eine breite Palette an Farben, von auffällig bis klassisch. Sie werden Hellblau, Bordeauxrot, Violett und Lachs finden, aber auch Cremeweiß, Schwarz, Grün und die natürliche Farbe des Nigella. Der Nigella Phocealys ist europäisch und kommt aus Italien, Spanien und Holland.
Origin :

Netherlands

Length min (cm) :

50

Length max (cm) :

60

Held in time :
Characteristics
Note: weight and dimensions are for general guidance only. It is a natural product and therefore the colours may vary depending on the bunch.
General recommendations
Dried flowers require minimal maintenance. Phocealys advises you :
Do not expose your dried flowers directly to the sun, as direct exposure could damage the colour of your bouquets

To remove dust from your dried bouquets, wipe them lightly with a cloth to avoid damaging them. You can also use a hairdryer, as long as the air is cold and you do not blow too close to the bouquet
If you follow these tips, your dried flowers will last almost forever!