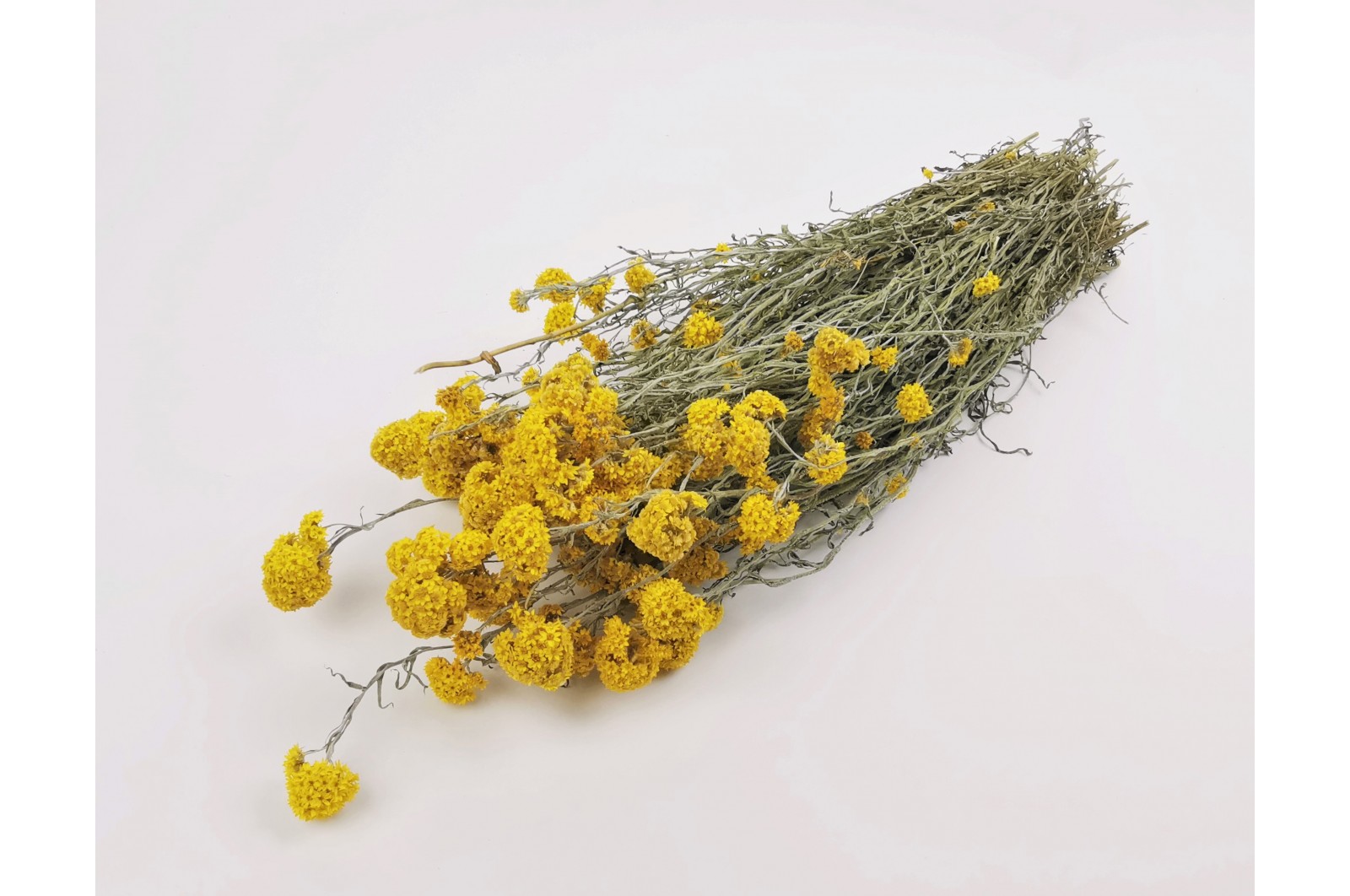  
Dried Sanfori yellow (18)
Reference : 18-SEC-FL-SANNL-08
Available stock :
76

units
Our site is dedicated to professionals
Full access to the site (price list, availability and product information) is reserved for our registered customers. To access it, log in or create your account. Automatic and instantaneous.
Log in to your account
No account? Create one
Description
If you're looking for a touch of elegance to add to your creations, try sanfordi. This beauty native to Spain and Holland has beautiful and abundant small flowers. The dry sanfordi offered by Phocealys is a plant made up of long, thin leafy stems with clumps of dozens of small yellow flowers at the end. The sanfordi is a very soft and refined dried flower that will bring elegance to the interior of your stores, your interior or that of your customers. By its beauty, the sanfordi is enough to itself in a bouquet, arranged in a pretty vase. To bring out its overflowing charm, you can associate it with other species of dried flowers. To combine it in the best way, Phocealys advises you the dry statice, the stabilized gypsophila or the dry broom bloom. The beauty of sanfordi makes it very versatile, in fact it is the ideal element for an infinite number of projects. Jewelry and decorative designers are delighted to use these gold buttons in their creations. In wreaths, floral jewelry, bracelets, flower brooches, sanfordi heads are perfect choices. The delicacy and refinement of sanfordi make it ideal for your clients' wedding. To add a touch of yellow to a flowered arch, in grandiose table decorations, floral aisles or even in the bride's bouquet, the dry sanfordi can only make this event even more beautiful. In the Phocealys catalog there are two types of dry sanfordi: the natural dry sanfordi, which comes from Spain, and the yellow dry sanfordi, which comes from the Netherlands. Although the flowers are yellow for both, the stems of the natural dry sanfordi are slightly more brown and darker and its flowers are slightly more pointed, more characteristic. Thus, one is more delicate, the other more vigorous.
Origin :

Hollande

Color :

Yellow

Length min (cm) :

40

Length max (cm) :

50

Held in time :
Characteristics
Note: weight and dimensions are for general guidance only. It is a natural product and therefore the colours may vary depending on the bunch.
General recommendations
Dried flowers require minimal maintenance. Phocealys advises you :
Do not expose your dried flowers directly to the sun, as direct exposure could damage the colour of your bouquets

To remove dust from your dried bouquets, wipe them lightly with a cloth to avoid damaging them. You can also use a hairdryer, as long as the air is cold and you do not blow too close to the bouquet
If you follow these tips, your dried flowers will last almost forever!