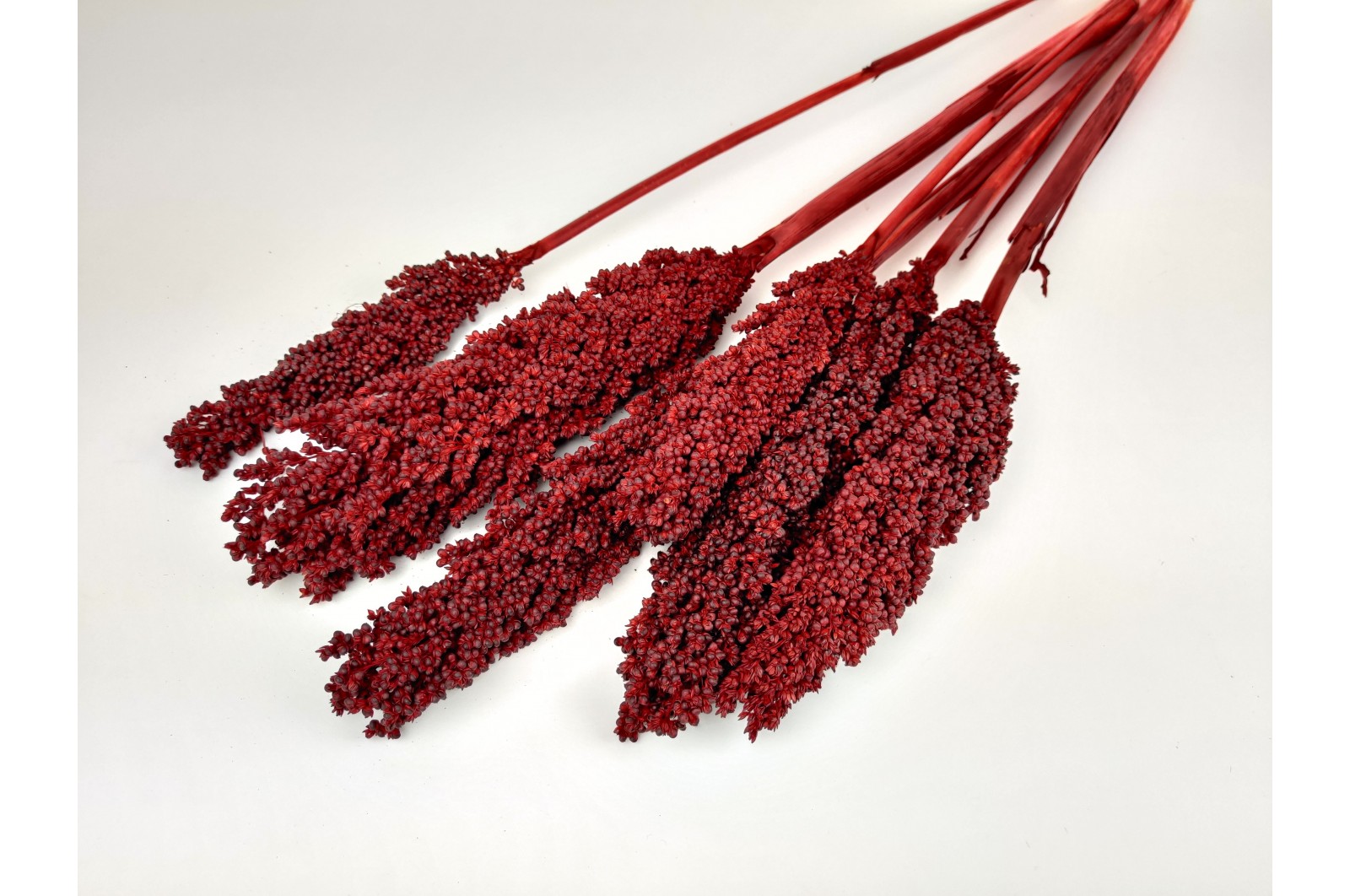  
Dried sorghum Red (8)
Reference : 8-SEC-FL-SOR-09
Available stock :
21

units
Our site is dedicated to professionals
Full access to the site (price list, availability and product information) is reserved for our registered customers. To access it, log in or create your account. Automatic and instantaneous.
Log in to your account
No account? Create one
Description
Sorghum is a well-known plant in agriculture. Indeed, it is a cereal with multiple functions. It is cultivated for two reasons, either as a food cereal, for the anecdote it is besides a cereal without gluten, or to nourish the breeding livestock. Sorghum is a cereal that originated in Africa, but it has spread all over the world, and has a different name on each continent. For example, it is called Indian millet in Asia or Egyptian wheat in the Middle East. If sorghum is a grain well known to farmers, it is also known in the world of interior decoration in its dried state. Indeed, sorghum is also a dried plant that decorates the interior of your stores or the interior of the house or companies of your customers with taste and refinement. The dry sorghum is composed of a rather thick stalk at the end of which we find many voluminous and round seeds. Sorghum is a very rustic dried flower that brings a country atmosphere to your creations and thus to the decoration of your customers. Your customers, who identify with nature and simplicity, are bound to find themselves in a creation with a touch of sorghum. To use sorghum as a decorative element, you can first offer your customers a bouquet of sorghum alone that they can arrange in a pretty vase to decorate their home. Obviously, combining dried sorghum with other dried flowers or stabilized plants will only make it more beautiful. To add it to a bouquet, consider dry broom bloom, dry babala or dry ammobium. If you're planning a large-scale creation, such as a plant wall, sorghum is also a great asset. Thanks to it, the natural and rustic spirit is assured. Sorghum is the best friend of weddings with a country theme. In a floral arch, a floral aisle or a table decoration and even in small quantities in the bride's bouquet, sorghum gives you a neat, voluminous and original finish. In the Phocealys catalog, you will find several colors of dry sorghum, including red, cream and its natural color. Phocealys dry sorghum is 100% European, it comes directly from Italy and Spain.
Origin :

Spain

Color :

Red

Length min (cm) :

60

Length max (cm) :

70

Held in time :
Characteristics
Note: weight and dimensions are for general guidance only. It is a natural product and therefore the colours may vary depending on the bunch.
General recommendations
Dried flowers require minimal maintenance. Phocealys advises you :
Do not expose your dried flowers directly to the sun, as direct exposure could damage the colour of your bouquets

To remove dust from your dried bouquets, wipe them lightly with a cloth to avoid damaging them. You can also use a hairdryer, as long as the air is cold and you do not blow too close to the bouquet
If you follow these tips, your dried flowers will last almost forever!