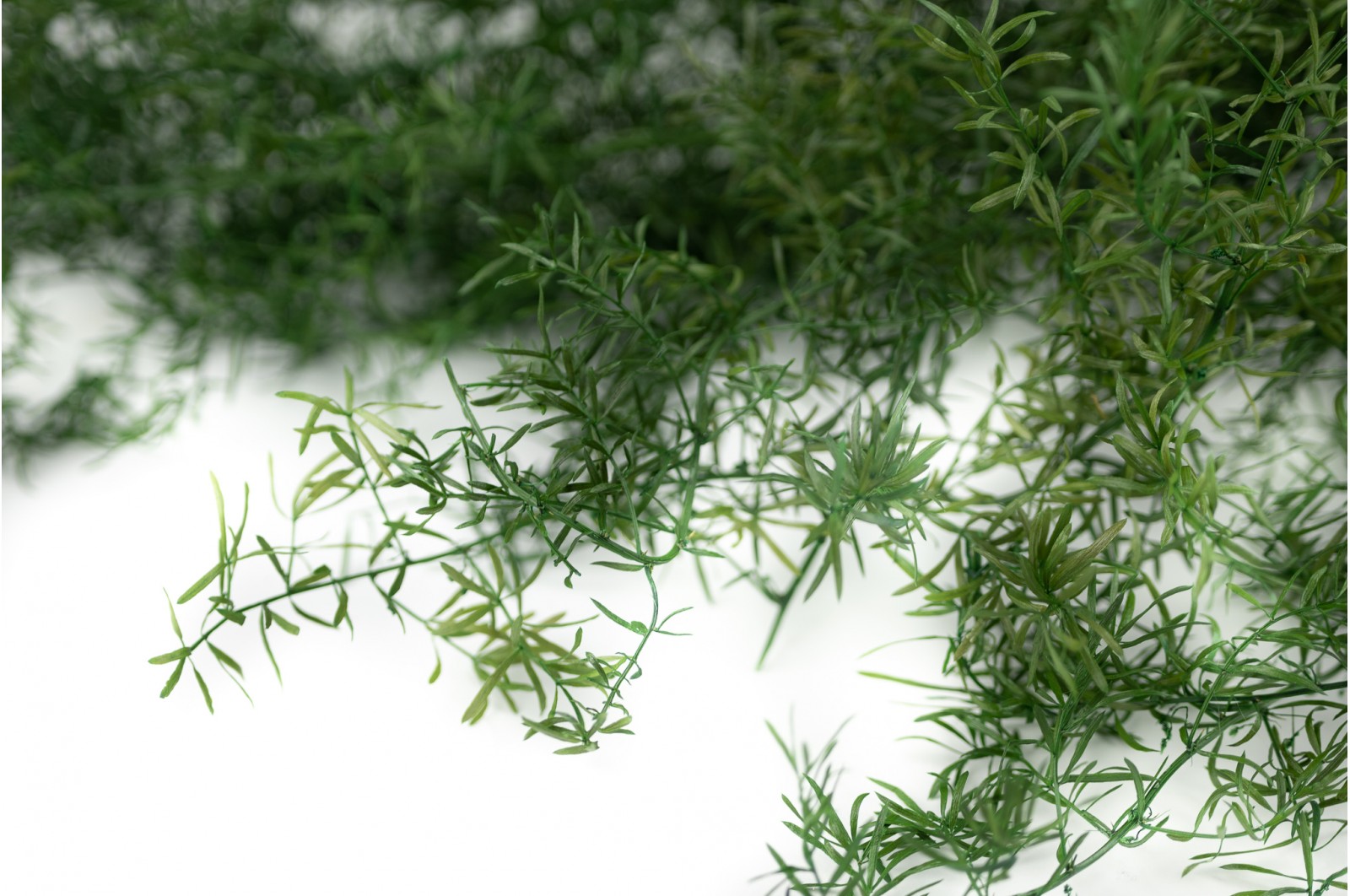  
Preserved Asparagus Sprengeri green (11)
Reference : 11-FE-AF-SPRAE-01
Our site is dedicated to professionals
Full access to the site (price list, availability and product information) is reserved for our registered customers. To access it, log in or create your account. Automatic and instantaneous.
Log in to your account
No account? Create one
Description
Whatever the species, the stabilized asparagus is one of the most popular plants in the Phocealys catalog. Many of you use it in your beautiful creations. Asparagus sprengeri, asparagus plumosus and stabilized asparagus are the three species available in the Phocealys catalog, and each species has its own particularity. The asparagus sprengeri is the most characteristic species with its long stems adorned with small, long and almost prickly leaves. Asparagus sprengeri is perfect for summer decorations, especially in wall decorations, plant walls and frames. If you're looking for more sweetness, asparagus plumosus is the species you need. Plumosus has an airy, light and soft look, almost like a feather duster. Soft to the touch as well as to the eye, asparagus is the element you need to create a healthy, relaxing and tranquil atmosphere. It is often used in store decorations, store windows or on counters. Stabilized asparagus is different in its hold and texture. It stands upright on stems and separates by multiplying its very thin and volatile leaves. Its upright position makes it very practical to use in a bouquet, in a vase with other plants. You can also change its style by changing its colors as it exists in red and yellow. The asparagus Phocealys is 100% European, it comes from France, Italy and Spain.
Stabilization technique :

Absorption

Origin :

Italy

Color :

Green

Length min (cm) :

50

Length max (cm) :

60

Held in time :
Characteristics
Note: weight and dimensions are for general guidance only. It is a natural product and therefore the colours may vary depending on the bunch.
General recommendations
Stabilised plants are 100% natural. They can only be exposed inside. They require no maintenance, no watering and no special light. They keep their freshness and flexibility for several years. A few tips to keep your stabilised plants looking fresh: 
Handle the plants with care and delicacy (natural plants are therefore fragile).

Avoid rooms with a relative humidity of over 80%. Use these products in interiors where the temperature is not lower than 10°C.

Avoid sudden fluctuations in temperature.

Avoid placing stabilised plants directly in front of air conditioning.