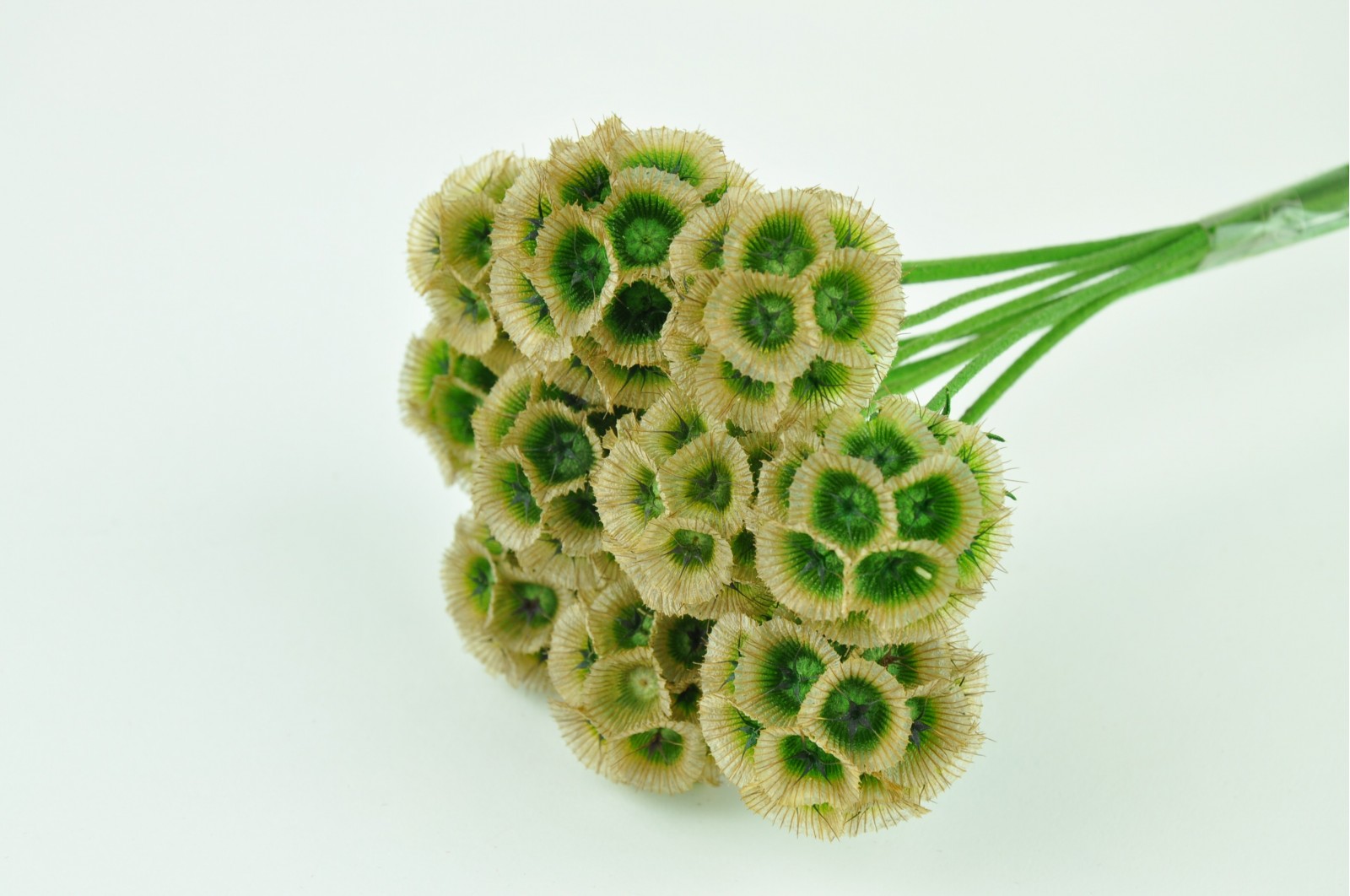  
Preserved scabiosa (6)
Reference : 6-F-FEFL-SCAB-08
Available stock :
112

units
Our site is dedicated to professionals
Full access to the site (price list, availability and product information) is reserved for our registered customers. To access it, log in or create your account. Automatic and instantaneous.
Log in to your account
No account? Create one
Description
Dry scabiosas, also known as scabious, are cheerful and very harmonious dried flowers. The round shape of the flowers inspires softness. Scabiosas also have a sophisticated look thanks to the perfect symmetry of the small pentagons that make up the scabiosa flower. The flower blooms at the first warm weather and lasts throughout the summer until the first frost, to the delight of our eyes. The scabiosa is the ideal dried flower to make a bouquet unique by adding a touch of originality. Thanks to its unique, almost geometric and graphic shape, scabiosa brings out the full potential of a classic bouquet, but it can also give a bright, colourful bouquet even more sparkle. You can use scabiosa in dry mixed bouquets, on its own in a vase, or in DIY creations, wreaths or flower frames. Scabiosas are available in many different colour shades. The pastel shades such as light pink scabiosa, light blue scabiosa, light purple scabiosa and yellow scabiosa are particularly popular.
Origin :

Italy

Flower diameter max (cm) :

3

Flower diameter min (cm) :

2

Diameter :

1-5 cm

Held in time :
Characteristics
Note: weight and dimensions are for general guidance only. It is a natural product and therefore the colours may vary depending on the bunch.
General recommendations
Stabilised plants are 100% natural. They can only be exposed inside. They require no maintenance, no watering and no special light. They keep their freshness and flexibility for several years. A few tips to keep your stabilised plants looking fresh:
Handle the plants with care and delicacy (natural plants are therefore fragile).

Avoid rooms with a relative humidity of over 80%. Use these products in interiors where the temperature is not lower than 10°C.

Avoid sudden fluctuations in temperature.

Avoid placing stabilised plants directly in front of air conditioning.