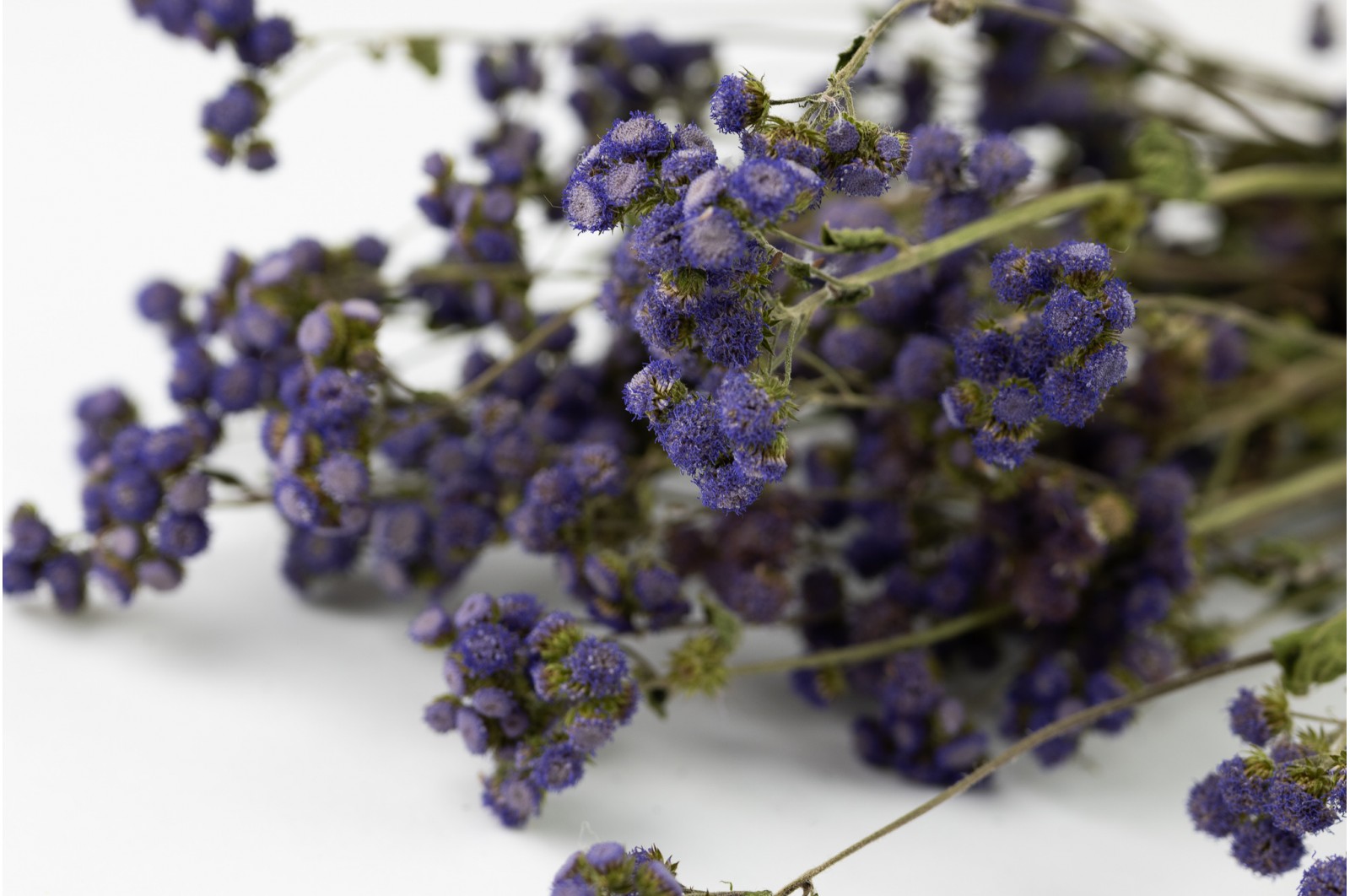  
Dried agératum nature (18)
Reference : 18-SEC-FL-AGERNL-08
Our site is dedicated to professionals
Full access to the site (price list, availability and product information) is reserved for our registered customers. To access it, log in or create your account. Automatic and instantaneous.
Log in to your account
No account? Create one
Description
Emblematic plant of Mexico and Guatemala, the agératum is a very resistant plant of the family of the Astéracées. It presents broad and rigid stems which can reach 60 centimeters in the bouquets which we propose to you. The natural color of the small flowers that we find as buttons at the end of these stems can be the blue, the pink, the mauve or the white. When it is fresh, the ageratum is very often used to illuminate the beds of its bright colors and thus bring cheerfulness to the gardens. The version that we propose you is new for the plant which is thus usually intended for an outside decoration. When it is dried, its use is then exclusively for interior decoration. It can be placed alone in a vase or on a plant wall, but the best way to show it off is to combine it with other dried plants in a bouquet. Thus, the ageratum will be perfectly in its element and will be able to sublimate the room in which it will be exposed with taste. The color we suggest is purple, similar to that of lavender. It brings enough energy to your bouquets to make the ageratum the centerpiece of your composition. You will be able to associate it with plants with lighter tones to highlight it perfectly. For example, we recommend a white dried amaranth or a natural dry tea tree, which will give this long plant the volume it needs to shine.
Origin :

Hollande

Length min (cm) :

50

Length max (cm) :

70

Held in time :
Characteristics
Note: weight and dimensions are for general guidance only. It is a natural product and therefore the colours may vary depending on the bunch.
General recommendations
Dried flowers require minimal maintenance. Phocealys advises you :

Do not expose your dried flowers directly to the sun, as direct exposure could damage the colour of your bouquets

To remove dust from your dried bouquets, wipe them lightly with a cloth to avoid damaging them. You can also use a hairdryer, as long as the air is cold and you do not blow too close to the bouquet

If you follow these tips, your dried flowers will last almost forever!